Factory ERP is the ERP system and MES combined for factories and thus supplements the Group ERP in corporations.
Classic ERP systems are created on the basis of the further development of Material Requirements Planning (MRP). MRP was a very simple model for the execution of elementary stock planning. Although MRP was developed on the basis of the requirements of Finances & Controlling to an Enterprise Resource Management (ERP) system, consequentially, non-specialized ERP systems have fundamental difficulties reflecting industry-specific processes in their factories. In particular in the process industries food & beverages, pharmaceuticals, chemicals and cosmetics, supplemental IT systems are usually required to control production, enable recipe management or ensure traceability within the factory.
Specific requirements of food production
Food production has its own laws. The heart of each food processor is their recipes. This is where all the threads of product development to calculation and material procurement, material planning and production meet. Variable factors, such as raw material quality, shelf life and mixing relation must just as much be taken into account as any potential co-products that are further processed in other products. Production is planned on the basis of recipes, the costs of a product is calculated, mixing relations are optimized, allergens, nutritional values and ingredients are identified and traceability is ensured. This can prove to be a true challenge for software.
On the other hand, real industry know-how is required to produce software. For instance, when creating operational data such as amounts, qualities and variable weight data, but also in terms of batch processing within the framework of production or labeling and weigh-price labeling finished products. This is where classic ERP systems ultimately reach their limits, if they - developed for piece manufacturing - are to depict the entire production process of food products. Often, proper indicators are lacking to ensure correct production planning, statistcal evaluations and weak spot diagnoses.
Group ERP systems have reached their limits in food production
Many large corporations in the food & beverage industry implement a group ERP, which was primarily developed for the areas of Finances & Controlling and which can only reflect the aforementioned requirements with great difficulty and extensive adjustments. The good news is: This group ERP can now be supplemented with an industry-specific solution. With FACTORY ERP, CSB has developed a concept and established it in practice, which optimally meets the requirements of the food industry. In more than 1,200 implementations of the complete solution in the food and beverage industry around the world, CSB has accumulated and extensive body of knowledge about what actually works in business practice. In this manner, with the concept of FACTORY ERP, CSB is closing the gap between group ERPs and MES. Industry-specific processes can be comprehensively depicted with the aid of the CSB FACTORY ERP in the industries food & beverage, meat, chemicals, pharmaceuticals and cosmetics.
FACTORY ERP takes over ERP and MES tasks in the factory. An example from practice.
FACTORY ERP can also be seen as a supplement for Group ERP. It acts as a combined ERP ad MES system for the factory and is seamlessly connected to the Group ERP via standard interfaces. A large German supermarket chain, for instance, uses a CSB Factory ERP in various meat and fish plants. This enables the supermarket chain to optimally plan, manage and control its complex processes at shop-floor level - from goods receiving to cutting, all production and processing levels and complex logistics up to the delivery to the customers. The integration of all processes, systems and machines ensures for largely automated processes, high quality of information, more transparency as well as an enormous increase in performance. A further benefit is also that the software optimally supports employees in their daily work routine. This applies to planning activities and controlling tasks as well as for the operative execution at the production and packaging machines and in the picking area. As a Group ERP, the SAP system serves to meet the requirements of a corporation. The interplay of the two ERP systems works excellently for two reasons: First, because the Group ERP does not intervene too deeply in the processes of the factory; and second, the standard interfaces are sophisticated, practice proven and stable. In this manner, the food company benefits from the best of both worlds - specific industry solutions in the factories and an established Group ERP for Finances and Controlling in the overarching group.
Example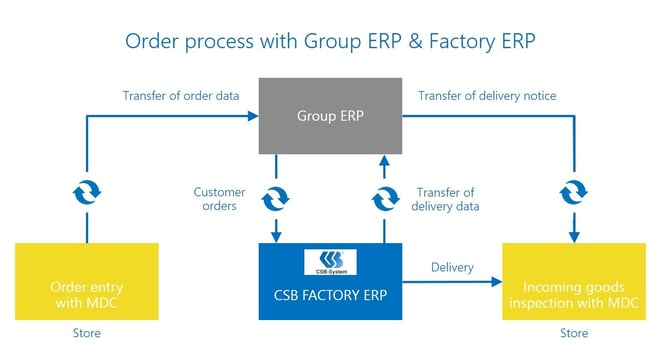 FACTORY ERP is highly interesting for mixed groups as well as for globally active corporations. The entire process of food production therefore take place in the factory entirely in one specific IT system, which was developed for that specific task. The Group ERP does not require any adjustment. It will continue to perform its tasks in the area of Finance & Controlling and is connected by means of standard interfaces to the FACTORY ERP.