A global CSB study based on a survey among 120 decision-makers in the international food and beverage industry shows that the significance of food value is increasing. Also digitalization is more and more important.
The decision-makers in the food & Beverage industry are optimistic about the future, as they expect the economic situation of their business to further pick up in the years to come. This was the result of an international survey by CSB-System among decision-makers in the food and beverage industry, which was conducted in June and July 2017. The majority of the surveyed decision-makers sees their own products as the basis for their business success. As much as half of the respondents defines product leadership through quality, freshness and innovations as their preferred business strategy. Manufacturers therefore count on quality rather than low prices.
Downward pressure on prices and more stringent laws and trade requirements
It is not the quality that is the biggest challenge for the surveyed companies though; it is the price. Two out of three decision-makers are sensing a big or very big downward pressure on the prices in their markets. Many sectors are affected by currently high raw material prices, which are difficult to pass on to trade or the final consumers. Another challenge are legal requirements with regard to food safety, labeling, and traceability, the most recent example at EU level being the regulation on the provision of food information to consumers and its mandatory nutrition declaration. Plus, retailers place increasing demands on manufacturers. Consumers expect amply filled shelves and food counters anytime of the day. As a consequence, retail is only doing business with manufacturers who can guarantee permanent product availability and prompt response times. But this is not the only factor of a successful cooperation for which retail raises the bar rather high.
IT offers the largest improvement potential
In this situation, the enterprises identified three business units as having the greatest potential for improvement: in sales & marketing, in production & intralogistics and, primarily, in information technology. According to the respondents, IT can help reduce the costs, but what is more important is its contribution to managing the complexity, controlling the operations, and improving the responsiveness.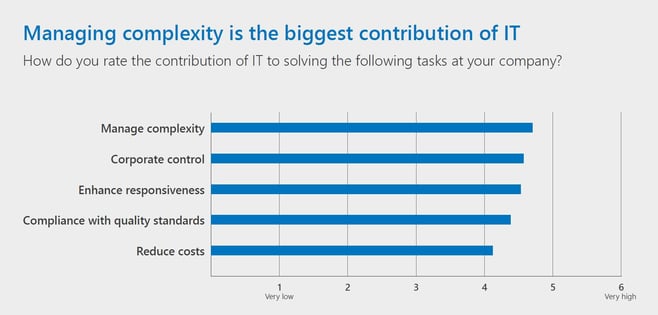 Quality will become even more crucial to success
The decision-makers considered the following scenario to be most probable: the significance of value and sustainability in the food industry will be increasing. In addition to the mass market, high-price segments are gaining importance. The fusion of cutting-edge technologies and traditional crafts produces a new quality of food stuffs that are elaborately manufactured, prepared and consumed. This confirms that the approach of counting on quality is the right strategy. Hermann Schalk, head of sales at CSB-System: "We still expect the downward pressure on prices to persist, therefore cost reductions are necessary. This must not adversely affect product quality, which is not necessarily the case. Our experience is that there is plenty of optimization potential in the processes, mainly through digitalization."